What's the point in investing 100's, if not 1000's of dollars into a build only to have it look like shit?

Just because PC cables don't necessarily improve performance, doesn't mean they're not worth investing in.

Having custom sleeving and improved cable management will also make your PC much easier to clean while making sure that your expensive components get the attention they deserve.

It's time to sort out the mess! Using the best custom pc cables turn your PC into something that you're proud of.
Choosing Custom PC Cables
It's fairly obvious why you would want to buy custom PC cables. Not only does it add a level of customisation to your build, it also makes it a lot tidier.

The downsides of custom sleeving is the price, and if you're doing it yourself, the tedious process of sleeving each cable.

If you're looking to buy from one of the leading cable sleeving companies, a simple 24 pin power supply cable could cost you anywhere between $50-$150.

This is a lot for one cable.

Fortunately, As well as custom cables, you are able to get PC cable extensions.

Cable extensions are slightly better value for money, but normally result in excess cable that you have to hide somewhere in your PC.

If you have a big case, or are willing to invest the time into performing the necessary cable management, you can buy a whole kit of extensions for as little as $50.

Of course, if you're willing to buy from Alibaba or Wish, you can bring the cost down even more.

I wouldn't recommend doing this though. Most of the time, the product quality will be poor and I'd never put my components at risk with untrusted wiring.
Best Custom PC Cables
If you're in the market for ready-made custom cables there are 4 brands that I'd recommend.

These companies offer international shipping and provide super high quality sleeved cables for most leading power supplies.

It doesn't matter which look you're trying to achieve, these companies will sort you out.
CableMod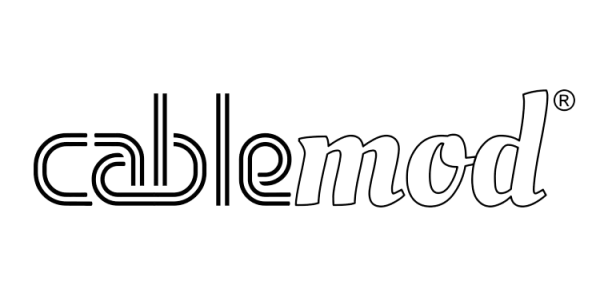 For those that want the best of the best and dont mind paying for it, CableMod is probably the most recommended custom cable company among PC enthusiasts.

No matter where you look on the web, be it forums, reddit or even youtube, everyone is using them for their builds.

CableMod are considered the best for a number of reasons.

For starters, they're one of the few companies that offer complete cable replacements. This means you can buy replacement cables that swap 1 to 1 with your existing PSU Cables, getting rid of any stupid excess that extensions would bring.

There are a handful of other companies that do complete cable replacements, they're also mentioned on this list.

Another reason to choose CableMod is that they offer 2 different types of cable sleeving, ModFlex and ModMesh.

ModFlex sleeving was the original sleeving option produced by CableMod. They're softer than traditional nylon sleeving and thinner than competing options.

The soft and flexible cables were tightly woven together and provided your PC with a cleaner and less cluttered look.

However, CableMod knew they could do better and in 2016, they released their new range of cables called "ModMesh".

The ModMesh line was designed to be super vibrant, more durable and offers a whole new level of robustness.

These wires are thicker with less gaps between them and come with cable combs that highlight and accentuate the custom cabling.

You can buy CableMod cables from most leading PC retailers or even CableMod themselves. While they're certainly pricey, you can get complete kits for under $100.

Check out what CableMod has to offer on Amazon.com
Ensourced
When it comes to custom cabling, Ensourced is probably my favourite company.

There aren't many cable companies that offer premium cabling solutions at a fair price, Ensourced is one of the few.

You can buy a basic kit for $79 which includes a custom 24pin and 8 pin cable with custom wire wraps installed. From there, you can add the PCI-E cables that you require or buy them separately if you already have some.

Ensourced also offers so many different options, it's unbelievable.

For their standard cable kits they offer 9 different colors. These range from black, to white, to glow in the dark.

If you want to build your own custom cables, they offer 50+ different individual sleeving options and are even willing to hunt down other colors you may want.

They even provide a cable design worksheet which will give you an idea of what the finished article will look like. I'm not even interested in buying custom cables, but this is pretty fun to play around with when I'm bored.

As well as various different colors, they support the most power supplies. Ensourced support Asus, CM, Corsair, EVGA, Fractal, NZXT, Seasonic, Silverstone, ThermalTake & XFX PSUs.

While modular cables make up the bulk of their business, you can also get extension cables if you're looking for a cheaper option or would like to change the colour of your fan cable.

I may be wrong, but I believe Ensourced is run by just one person. They focus heavily on product quality and customer satisfaction. As a result, I cannot recommend them enough.
Mainframe Customs
Mainframe customs is a PC customisation company that offers much more than custom cables. They produce their own custom cases, sell water cooling products as well as fans and accessories.

That said, the bulk of their business is custom PC cables and cable sleeving supplies.

Mainframe offers cabling for the 5 leading PSU manufacturers. You can buy custom sleeved cables for Asus, Corsair, EVGA, Seasonic & Silverstone power supplies.

I'm a big fan of their website. They let you select the cable length, up to 6 colours, the color of connector and the number of cable combs that you would like.

The only downside is that they don't have as many color options as Ensourced.

That being said, Mainframe are one of the leading providers of custom cables in the world. They offer simplicity and 100% satisfaction.

All of their cables are handmade in their 6,000 square foot shop that is located in California and they provide cables to some of the most prolific streamers and tech youtubers on the internet.

Being one of the bigger companies, they are able to manufacture and ship your products fairly quickly. They use USPS within the states and every order is tracked.

They also offer worldwide shipping, however, the delivery time could be much longer due to customs holding packages.

Every site on this list is fairly competitively priced. You should order from the company that suits you best. I'd personally choose ensourced, however, buying from a larger company such as Mainframe may give you peace of mind.
Mod-One
Unfortunately, as of right now, mod-one is running fairly low on stock.

In terms of custom sleeved cables, they have a set for each of the leading power supplies, whether it's Corsair, Silversonic, Silverstone or EVGA.

Unfortunately, there's only one colour option which is red, white and black.

This may be because of the current world situation. Mod-one used to be a lot bigger, but seems to have fallen off since.

Regardless, their cables are still high quality.

That said, they do cost a little more and you have to buy them one at a time. As of right now, mod-one probably is not the best option on this list, hence why I've left them till last.

However, over time they may rebuild their product line and become the shop they once were.